Greetings to all fellow GERATOLers. As is our tradition, the GERATOL Net will be signing off for the summer months on April 30th. We will be back on the air once again in the Fall, beginning October 1st.
Once again, the condition gods have made it challenging for the net, but despite that, we had a very active net this season, as we celebrated the 50th Anniversary of net operations.
First and foremost, we want to extend a HUGE thank you to our Net Control Stations, one and all. Without the dedicated efforts of the Net Controllers, there would be no net. Without their efforts over the last 50 years, the net would have gone the way of spark gaps. Congrats to all the NCS operators, and thank you all !! Take a minute during the net to thank your NCS for being there and for taking the time out of their day, to run the net, and to be such gracious hosts for the GERATOL Net.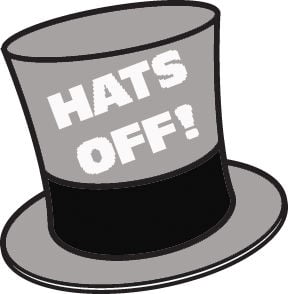 In celebration of our 50 years in service to the Amateur Radio community, we launched the first half of the 2021/2022 season, with a special commemorative certificate, offered up by Dave and Sandy, KJ8V and KJ8W respectively. It made for a fun season opener, especially for the regulars and for those folks working on their basic, by adding a fun set of challenges. Working for the certificate added some new stations on the net as a result. Thanks to Dave and Sandy for that effort.
Then in February, Kevin, N1KL on behalf of the GERATOL Net, was granted Special Event call sign from the FCC, W1G to promote the net on all HF bands, and to provide a commemorative W1G QSL card to those who worked the Special Event stations, operated by Kevin, N1KL, Steve, N9SC, Frosty, W0FP and Steve, AC0SG. During that two week period, we worked over 300 stations in the US and Canada, including 40 different states, 4 Canadian provinces and some of those QSO's led to folks checking into the net. Kevin sent out over 150 W1G commemorative QSL cards, and our W1G event was posted on the QRZ pages. We got to hear from some old time GERATOLers who had not checked in for some time.
Between the 50th Anniversary Certificate and our special W1G commemorative QSL card, folks had fun collecting both. Here is an example of one op, Dennis, WD9HCF who decided to frame both items. Congrats Dennis and to all who worked both for both.
If there is anyone who may have worked Special Event station, W1G but who did not receive their commemorative QSL card, simply fire off a note to Kevin-N1KL at n1kl@geratol.net and let him know, and he will make sure you get your card.
To all GERATOLers, have a GREAT upcoming off season. Now is a great time to make those antenna and rig adjustments necessary to get you up and running in the Fall when the net resumes on October 1st.
On behalf of all the GERATOL Net Board Members, Awards Manager, Website Administrators, etc. we wish you all a productive and healthy summer, and we look forward to seeing you all in the fall on October 1st.
73's Kevin N1KL